© Netherlands Board of Tourism & Conventions
# Trip
Visit of the Dutch Open Air Museum of Arnhem
Description
Departure from Nijmegen by coach in the company of your hostess for the Dutch Open Air Museum in Arnhem, which is located in a beautiful wooded park (44 ha). Some 80 authentic farms, windmills, workshops, houses, barns, a church and a school provide an insight on the everyday life and architecture of yesteryear.
Upon arrival, our hostess will hand you a ticket so you can visit the museum on your own. Inside every building, you'll be intrigued by the typical furniture and the displays of various trades and crafts. Some of the buildings are grouped together, such as the beautiful Limburg timber-framed buildings or the Gelderland farms, but the most charming spot is without a doubt the area dedicated to the Zaan region, with its green painted wooden houses and tastefully decorated gables. Our visit will start with the renovated entrance pavilion and its good vantage point over the park and its many windmills. There are farming implements on display in many areas, like the collections center. The lower level gives access to the spectacular panoramic theater HollandRama. In this mobile capsule, films, sounds, lights, smells and temperatures evoke different scenes, from cityscapes to the confines of houses. Return on board by coach.
PLEASE NOTE
This is an unguided tour.
Bags can be let to the left luggage office.
Information in the museum (notice board) is given in Dutch, in English and in German.
The order of the visits can change.
Times are approximate.
Cruises
This shore excursion is available for one or several cruises
Show more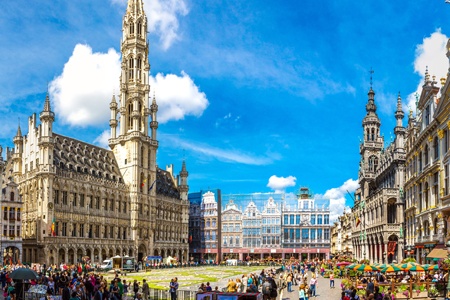 © Bloodaa
Next departures:
22/10/2019
BRUSSELS - ANTWERP - ROTTERDAM - AMSTERDAM - COLOGNE - RÜDESHEIM - Heidelberg - MANNHEIM - STRASBOURG
From Brussels to Strasbourg via Amsterdam and Cologne, cruise through Belgium, the Netherlands and Germany in search of their hidden treasures. Discover the breath-taking beauty of Brussels, the Belgian capital, and the many international organizations at The Hague. Travel to the heart of iconic places such as Volendam, a former fishing village on the Ijsselmeer, and Zaanse Schans. Enjoy a perfectly combined cruise between nature and culture.
START IN
2019
* Price based on double occupancy