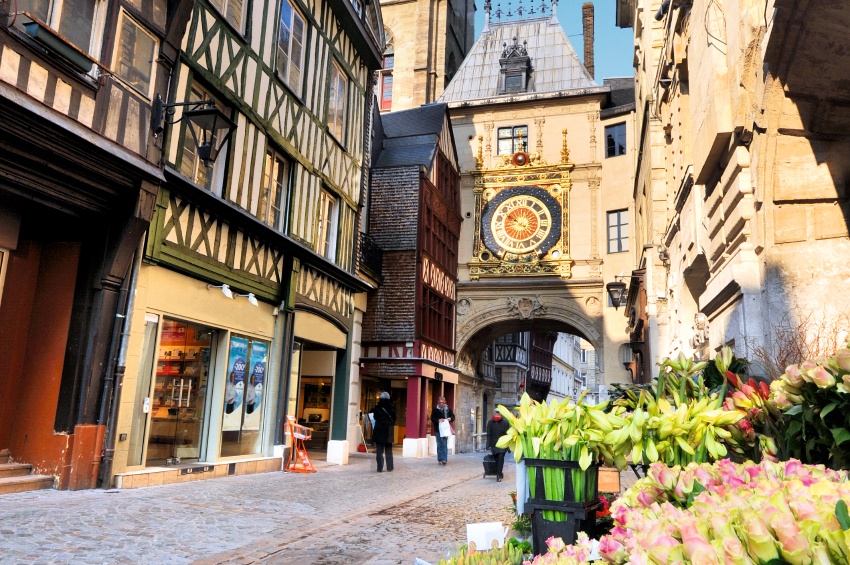 © Fotolia
# Trip
Guided walking tour of Rouen
Description
We'll leave on foot for a guided tour of Rouen. The historic center of the city and its famous cathedral are only a 5-minute walk from the ship. Stretched along the Seine, Rouen is Normandy's cultural, historical, and gastronomical capital. The exceptionally complex Notre-Dame Cathedral is renowned for the juxtaposition of all the Gothic periods - especially on the facade, which Monet painted time and again, reflecting its glory in different lights. Destroyed during the Viking invasions in 841 and, partially, in 1944, by allied bombardments, the cathedral continues to be a perpetually evolving structure. We'll then head to the market place where Joan of Arc was burned alive for heresy in 1431. The Gros-Horloge, or Great Clock, is one of the most emblematic monuments in the city. The Gothic belfry has housed the communal bells and clock of the city since its construction at the end of the 14th century. Finally, we'll visit the Saint Joan of Arc Church. Located on the Old Market Place, this large monument's construction ended in 1979 and was built both in honor of the Saint as well as the heroine celebrated by the French on the second Sunday in May. We'll return to our ship on foot at the end of the afternoon.
Duration : approx. 2:00
Good walking shoes are recommended.
This excursion will occur in the morning or in the afternoon depending on the schedules of the Honfleur port.
The order of the visits may change.
Times are approximate.
These excursions are not proposed for all the cruises and depend on the itinerary.
If the minimum of 25 participants is not reached, the excursion may be either cancelled or proposed at another rate, depending on the number of participants (to be paid for on board).
The excursions on the first evening and the morning following boarding are only guaranteed for the passengers who have booked the excursion before the cruise.
Cruises
This shore excursion is available for one or several cruises