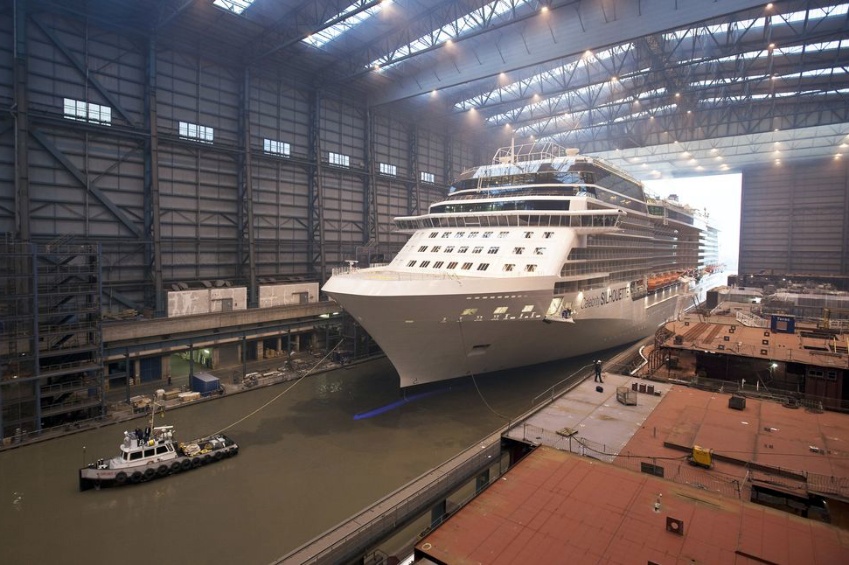 © Meyer Werft
# Trip
Guided tour of the Meyer Werft shipyard in Papenburg
Description
Departure by coach from the Papenburg lock towards Meyer Werft Shipyard. Founded in 1975, the shipyard has been owned and managed by the Meyer family for six generations. The first ships that were built there were small wooden vessels. Less than a hundred years later, the first iron ship was launched notwithstanding the other manufacturers mocking the idea, thinking that iron could not float. Meyer Werft gained international recognition through the construction of roll on/roll off ferries, passenger ferries, gasoline tankers, container ships, livestock ferries and most recently luxury cruise ships. Due to its upstream location on the river Ems, the giant ships to be delivered have to make a 36 km voyage to the Dollart.
A passionate guide will tell you all about the various stages in the construction of these floating sea monsters during your one and a half hour tour.
Return on board by coach after the Doerpen or Delfzijl locks.
Duration : approx. 2:00
The boat will sail during the excursion.
Visit entirely on foot in the shipyard buildings. Passengers will only see the shipyard from behind bay windows.
Beware! Information is sometimes given in German (introduction film, notice boards etc.).
The order of the visits can change.
Times are approximate.
These excursions are not proposed for all the cruises and depend on the itinerary.
If the minimum of 25 participants is not reached, the excursion may be either cancelled or proposed at another rate, depending on the number of participants (to be paid for on board).
The excursions on the first evening and the morning following boarding are only guaranteed for the passengers who have booked the excursion before the cruise.

Cruises
This shore excursion is available for one or several cruises