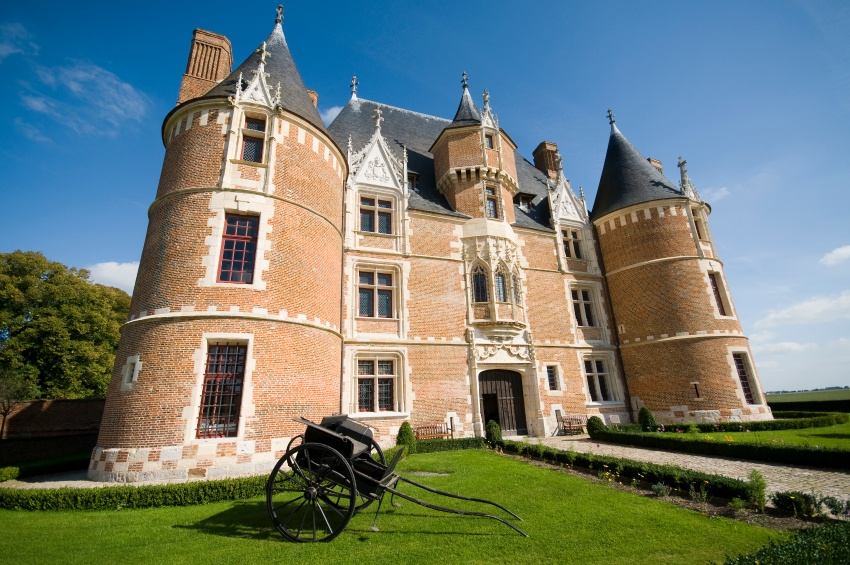 © Grégory Gérault
# Trip
Château de Martainville
Description
Departure by coach along with your host/hostess. We will cross Le Petit Andelys and pass by the St Sauveur Church (a 16th century church which still possesses a vintage organ). After 40 minutes' travelling through different villages along the Andelle (river running through the valley), we'll arrive at Château de Martainville. This château was built at the end of the 15th century by Jacques Le Pelletier, and bought by the State in 1906, then turned into a museum in 1961.
In 2 hours, learn about 500 years of rural Normandy history. Travel through the heart of Norman traditions (work suits, headdresses, jewelry, weavings), relive the past through the objects of everyday life (copper pans, pottery, baskets...). Discover the largest collection of Upper Normandy furniture, the "Famous Norman Wardrobes". Transfer back to Rouen at the beginning of the evening.
Duration : approx. 5:00
Comfortable shoes are recommended.
Times are approximate.
The visit of the castle is done freely.
The order of the visits can change.
These excursions are not proposed for all the cruises and depend on the itinerary.
If the minimum of 25 participants is not reached, the excursion may be either cancelled or proposed at another rate, depending on the number of participants (to be paid for on board).
The excursions on the first evening and the morning following boarding are only guaranteed for the passengers who have booked the excursion before the cruise.
Cruises
This shore excursion is available for one or several cruises