# Description
Cruise
SOUTH AFRICA - BOTSWANA - NAMIBIA - ZIMBABWE
From Johannesburg to Victoria Falls, you'll discover spectacular panoramas and tumultuous histories, but also incredible wildlife and carefully crafted menus that reflect the flavors and savors of Africa, as well as the most beautiful natural reserves and the secrets of Lake Kariba before taking in the grandeur of the "smoke that thunders," Victoria Falls.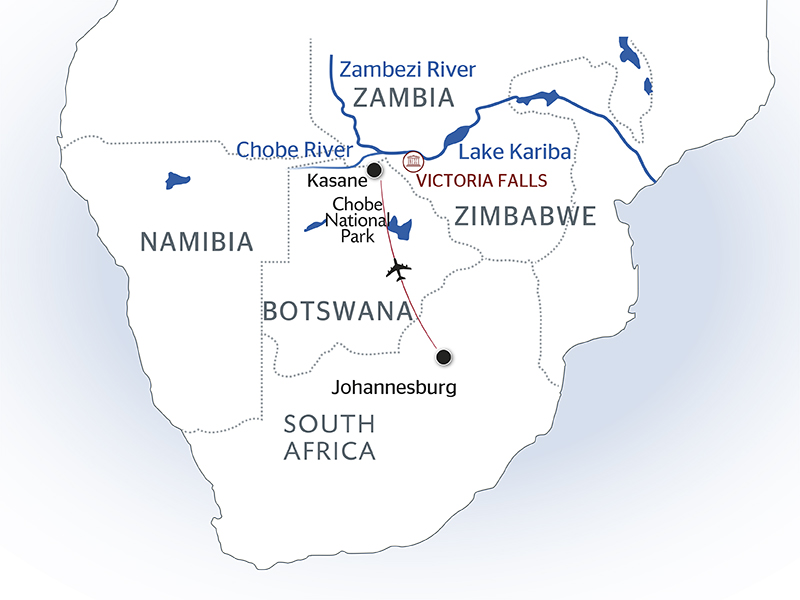 THE CROISIEUROPE DIFFERENCE
All meals included - DRINKS INCLUDED with meals and at the bar
Refined local cuisine
Official welcome from the captain and crew
Tour leader or cruise director on board
Onboard activities and/or lectures
Travel assistance and repatriation insurance
All port fees included
HIGHLIGHTS
Luxurious and comfortable lodge and ship
Unique cruise on Lake Kariba through emblematic and mysterious landscapes
Land and water safaris in Chobé and Matusadona National Parks
The grandness of Victoria Falls is waiting for you, on foot or on board a helicopter (optional)
START IN
2019
* Price based on double occupancy
Sales
15% discount for 1 child from 7 to under 17 years old, sharing 1 cabin/room/bungalow with 1 or 2 adult(s) client(s) (excluding international flights, taxes, additional costs, visa and booking fees). Discount valid for the safari-cruise and the Cape of Good Hope pre-cruise program and limited to 1 child per room.
Under 7 years old, children aren't allowed for security reasons.
Formalities
Non-EU nationals are requested to consult their embassy or consulate.
IMPORTANT: Please make sure to check the mandatory travel requirements for minor children as specific documents will be asked to enter and leave South Africa.
The following information is given for guidance only and may be modified at any time. This information cannot anticipate the sovereign application thereof made by the authorities of the countries to be visited, nor by the airlines.
All parents are requested to produce legal proof of filiation with their children upon entering and leaving South Africa. This rule is enforced at all borders point of the country.
Specific documents may be requested according to the following situations:

1/ Minor traveling with both parents
2/ Minor traveling with one parent who is not separated from the other parent
3/ Minor for whom one parent is deceased
4/ Minor traveling with one parent who is legally separated or divorced from the other parent
5/ Minor traveling with an adult who is not a parent
6/ Minor traveling alone
It is crucial for guests travelling to South Africa with minors to consult the South African Embassy in their own country and check the entry and travel requirements for all countries to be visited.
Ships
Several ships available for this cruise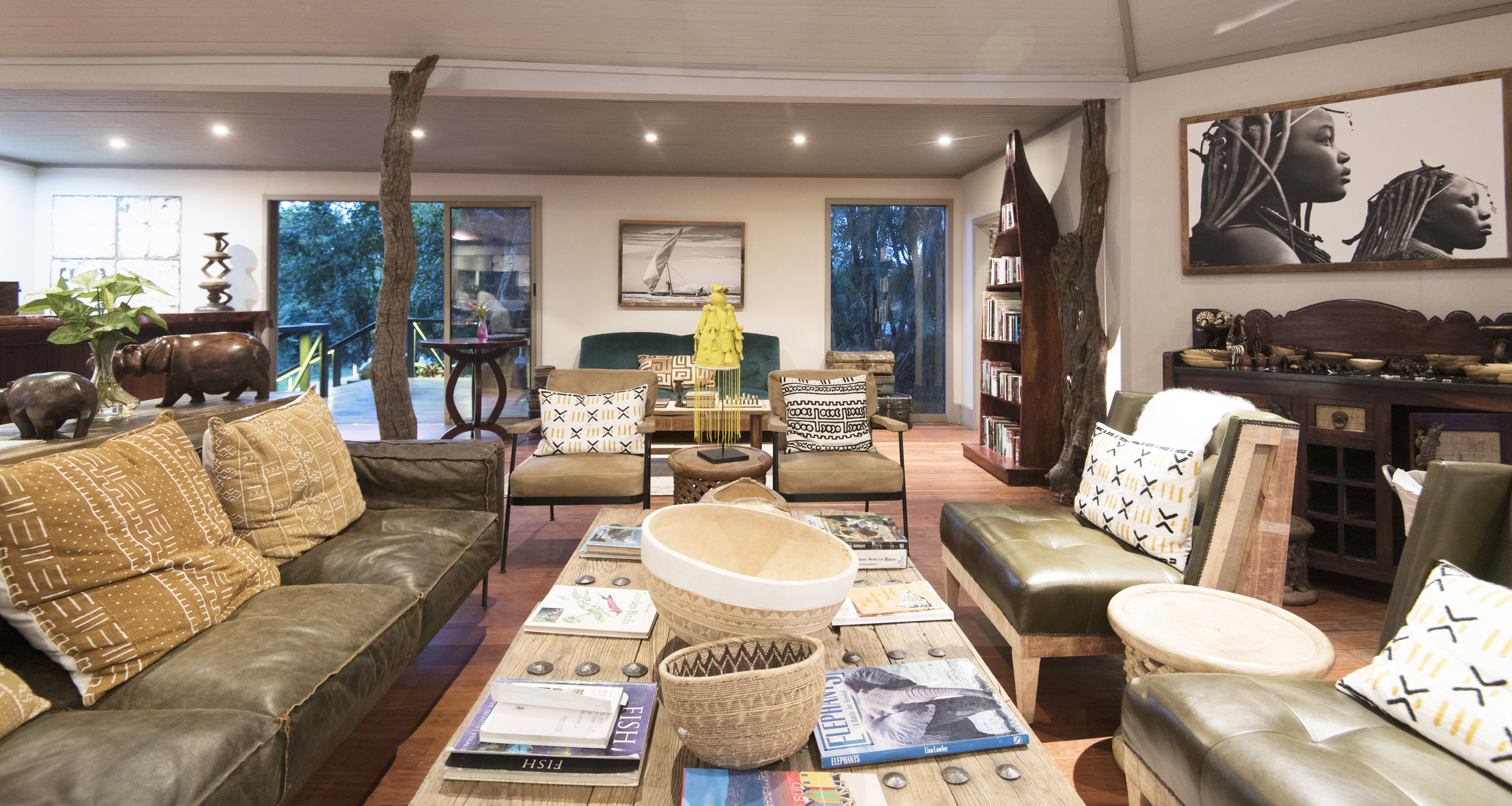 © Alexandre Sattler

© Eric Vancleynenbreugel

© Alexandre Sattler

© Alexandre Sattler
CASCADES LODGE
8

Bungalows



These cruises and tours are not recommended for persons with reduced mobility as we will walk along stony paths and slopes.
Your cruise on board the African Dream as well as your stay at the lodge are fully dedicated to the protected areas of Lake Kariba and Chobé National Park. Life on board and at the lodge revolves around the discovery and observation of the local fauna and flora, providing constant enchantment.
When visiting the villages on Impalila Island, we will pass the island's school. If you wish, you can bring supplies such as pens and notebooks. In case the school is closed (during weekends, on public holidays and during vacations), you will be able to leave those supplies with the lodge manager who will distribute them to the teachers when school starts again.
The domestic flight from Johannesburg to Kasane will be provided by South African Airways or another airline serving Southern Africa.
Domestic flights for Lake Kariba will be provided by Central Air Transport Service, Safari Logistics or another airline serving Southern Africa.
Please note: international flights are not included, our services start from the hotel in Johannesburg and end at the hotel in Victoria Falls.
Time difference: You can consult www.worldtimezone.com to see the time difference between your home and your destination.
The following information is given for guidance only and may be modified at any time. This information cannot anticipate the sovereign application thereof made by the authorities of the countries to be visited nor by the airlines.
There are no compulsory vaccinations for your destinations except for guests arriving from countries with risk of yellow fever; these guests may be required to produce proof of vaccination at the airport or at the border post.
However, it is strongly recommended you ensure your vaccines for the following diseases are up-to-date: tetanus, polio, hepatitis A and B, diphtheria and typhoid. We also recommend consulting with your general practitioner regarding an antimalarial treatment and a yellow fever vaccine.
Vaccines for tetanus, diphtheria, polio, rubella, mumps, measles, and tuberculosis are recommended for minors. As a general rule, we strongly recommend consulting with your general practitioner about any health concerns before your departure.
/!\ ATTENTION - BAGGAGE REGULATIONS TO FOLLOW /!\
On this trip we plan to use private planes to get you between Kasane (lodge) and Kariba (ship).
The airline company operating these flights are imposing many restrictions regarding the bags being transported due to the capacity of the planes and for safety reasons.
You'll find the list of regulations below:
Your checked baggage (1 per person maximum) MUST NOT EXCEED 20KG/44lbs.
It MUST COMPLY WITH THE FOLLOWING DIMENSIONS 60cm/23,60in. in length x 40cm/15,70in. in height x 30cm/11,80in. in width.
It must be made from SOFT FABRIC. Hard-shell suitcases are not accepted.
Luggage with wheels is accepted (a maximum of 2 wheels per bag).
Your carry-on baggage and personal items MUST NOT EXCEED 3KG/6.6lbs.
If your baggage does not comply with the above rules, THE AIRLINE WILL REFUSE TO TRANSPORT IT. Your stay aboard the African Dream would take place without your personal belongings. At the end of your cruise and before taking your international flight, you will be forced to return to the lodge at your own expense to collect your suitcase.
For your comfort, a laundry service is available during your stay at the lodge.
***
CABIN FOR TRIPLE USE ON BOARD THE AFRICAN DREAM
If two adults and one child are sharing one cabin, the spare bed will measure 150cm x 80cm (59 in. x 31 in.).
***
EXTENDED STAY
THE CAPE OF GOOD HOPE
Ref. 14F_PP - 3-DAY PRE-CRUISE PROGRAM
A rich diversity of excursions awaits you during your extended stay at the Cape: take in wonderful views from the Table Bay and the nearby peaks of the surrounding mountains, learn how Robben Island made its mark on history, meet with a hilarious penguin colony near Simon's Town and of course, taste some of the most famous local wines* when touring the oldest vineyard in South Africa. You will love this unique and captivating way of discovering Africa!
The tour itinerary can change depending on the weather.
The order of the visits can change.
The observation of wildlife can't be guaranteed.
The helicopter ride depends on suitable weather conditions.
(1) Please inform your travel agency of your preferred option upon confirmation of your booking. If we do not receive this information, dinner at the BOMA restaurant will be automatically booked. We will honor your choice depending on availability.
*Alcohol can be harmful to your health. Please drink in moderation.