Christmas markets on a cruise


© CroisiEurope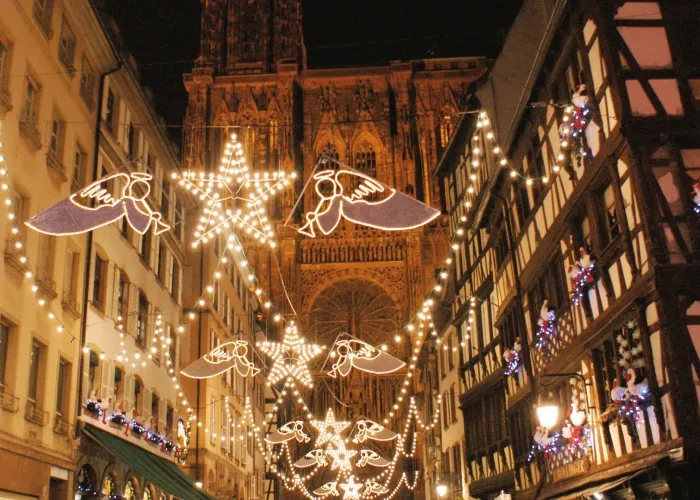 When Christmas approaches, prelude to dream and magic, Alsace as a whole is equipped with its most beautiful assets. In its bright, splendid and magical setting, it invites young and old to a fascinating journey. Dive with us into the depths of his heart and soul, between a thousand emotions, scents, colours and flavours.
Inspired by neighbouring Germany, the tradition of Christmas markets offers a magnificent open-air show for more than a month. An event that has been the pride of the inhabitants and the happiness of millions of visitors from all over the world for more than five centuries.
From town to town, from Strasbourg to Ribeauvillé, via Colmar and Kaysersberg, Christmas markets come to stroll through the picturesque chalets full of wonders. Along the decorated facades and illuminated streets, all your senses will be awakened between aromas of mulled wine and cinnamon, nativity scenes and fir trees, gnomes and goblins, garlands as well as the famous "bredeles" and gingerbread. You will be able to discover in these markets an ancestral, authentic and generous culture where the spirit of Christmas, its songs, tales and customs are at the heart of each destination.
© Mapics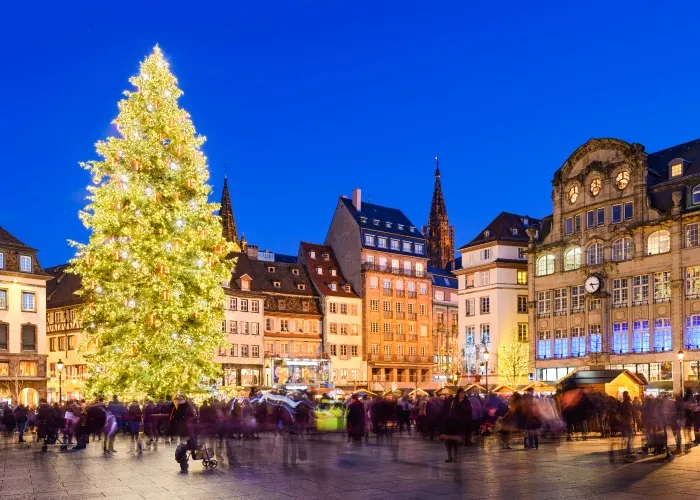 If the oldest mention of a Christmas tree (1521), then decorated with apples and hosts, is made in Selestat (Alsace), it is in Strasbourg that the highest peak (30 metres) is found. The latter is carefully selected each year from a nearby forest and transported to Place Kléber, in the heart of the Alsatian capital.
Here, as in all of Alsace, Saint-Nicolas is celebrated every December 6, which treats schoolchildren to sweets. There are other legendary figures, such as the fearsome Père-Fouettard or Christkindel, played by a young woman dressed all in white, who gave her name to the city's Christmas market (" Christkindelsmärik "), the oldest in France (1570) and the greatest in Europe.
As every year, Croisieurope invites you to discover or rediscover the magic of these Christmas markets on a cruise, so you can explore the Christmas markets of Alsace and Germany on board our boats for various stays and cruises stopping in Strasbourg but also in Colmar, Fribourg, Mulhouse, and many other towns and villages in the Rhine basin. For fans of German culture you can sail the Neckar Valley and Bavaria to discover the Christmas markets of Mannheim and Speyer. Ideal for filling up with "Glühwein" (mulled wine with spices) in a magical atmosphere.
The great Danube capitals are also changing during this festive period. A cruise on the Danube River that sails to discover the Christmas markets of the famous Vienna, Bratislava and Budapest. An itinerary through three countries that will plunge you into the heart of three different worlds of Christmas magic. You can also vary the gastronomic pleasures between the traditional Viennese "Schnitzel mit Semmel" and the Hungarian "Goulash".
DISCOVER OUR DANUBE RIVER CRUISES
© Sborisov